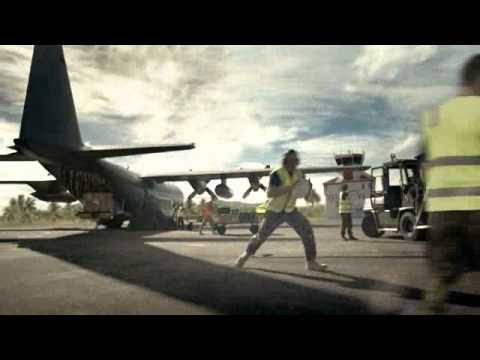 The New Zealand Defence Force is giving potential recruits a peek of life as a member of the Royal New Zealand Air Force from those who know best – Air Force personnel themselves.
The Step Up and See What You Can Be campaign developed by Saatchi & Saatchi New Zealand and Starcom Worldwide, features a 30-second television commercial shot at Whenuapai Air Force Base.
It shows Corporal Reece Tamariki sharing his life in the RNZAF with engineers, logistics specialists, avionics technicians, pilots, medics and intelligence specialists.
"We wanted to let people know just how many exciting career paths are available in today's Air Force and give a flavour of the Air Force lifestyle and the people who thrive there," says New Zealand Defence Force Director of Recruiting Commander Nigel Philpott.
"The solution Saatchi & Saatchi designed enables us to tell a compelling story on TV and provide an online experience that engages with potential recruits at a more personal and emotional level."
The commercial is supported by an interactive website (www.defencecareers.mil.nz/air-force) loaded with a series of short films offering further insight into the day-to-day life in the Air Force, a career finder and 'RNZAF Virtual Missions' – an interactive programme allowing potential Air Force recruits to see how they would fare with duties Air Force members typically undertake, such as Search and Rescue and Reconnaissance missions.
"We began with the strong belief that we needed to provide the most insight possible of life as a member of the RNZAF," says Saatchi & Saatchi ECD Antonio Navas.
"We think that hearing the experiences of Air Force personnel and then heading online to have a go at a typical Air Force operation provides the most authentic experience in a personal and engaging way."
Those with an eye for technology will also have spotted the impressive equipment that Air Force team utilises including a Hercules, P3K Orion and the very latest addition to the fleet, the NH90 helicopter.
CREDITS:
Executive Creative Director: Antonio Navas
Creative Group Head: Mac Macaskill
Copywriter: Phil Hickes, David Sylvester
Art Director: Arnya Karaitiana
Executive Digital Producer: Haydn Thomsen
TVP Producer: Anna Kennedy
Senior Digital Producer: Linda Krug
Senior Digital Designer: David Hunter
Senior Flash Developer: Colin William, Jo Gibbons
Senior Backend Developer: Matt Skinner
Digital Designer & Animator: Peter Bardsley
Group Account Director: Tim Dixon
Senior Account Director: Helene Malandain
Account Manager: Elena Babitcheva
Planner: Sarah Hodgetts
Director: Andy Morton (8COM)
Executive Producer: Katie Millington (8 COM)
DOP: Callan Green
Editor: Dan Kircher
Colourist: Pete Ritchie (Toybox)
VFX Supervisor: Stefan Coory (Blockhead)
VFX Artist: Nigel Mortimer (Blockhead)
Sound Design/Mix: Ben Sinclair (Images & Sound)
Music Composition: Paul Stent (Marmalade)
New Zealand Defence Force: Nigel Philpott, Jessica Nikora, Kavae Tamariki