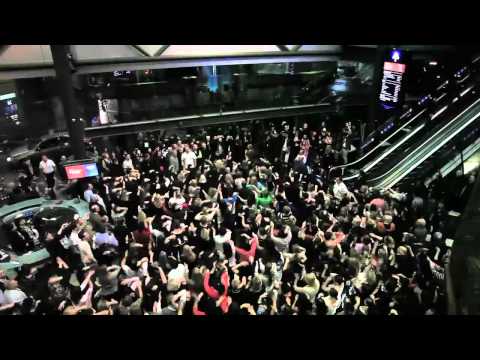 Over 500 Harvey World Travel delegates & suppliers from Australia & NZ broke into dance at The Atrium in Sky City on Saturday night. It wasn't that flash – but the enthusiasm was contagious, and for sheer size it was impressive.
The delegates were gathered to attend this year's Harvey World Travel National Frontliners Conference 2012, but had also secretly learned a dance routine.
"This year's conference invited everyone in the company to 'Challenge Yourself,' and with so many of our agents and suppliers in one place at one time, we felt it was necessary to do something courageous and memorable, said MD David Rivers.
"Having hundreds of Harvey World Travel representatives break into dance wasn't just fun but incredibly inspiring for me. It's hard not to smile when you're dancing and as everyone, including myself, got into the groove, we had a great time. I don't think the staff and visitors at Sky City had seen anything like it."